Hi Friends. So today I am participating in Kylie Bertucci's International Blog Hop. The fun thing about participating in this blog hop is that people vote on your project and you can be a winner to participate in another blog hop! Who doesn't love a little competition? And when people vote and say they like your project, it makes you happy.
Today's theme is thank you and I have some serious thank you's going out to everyone who ordered from me in July and earned a Bonus Day coupon to spend anywhere including the Mini Holiday Catalog. The Catalog goes live tomorrow and it is awesome.
Using Celebrate Sunflowers, I have made this fun thank you card for my customers.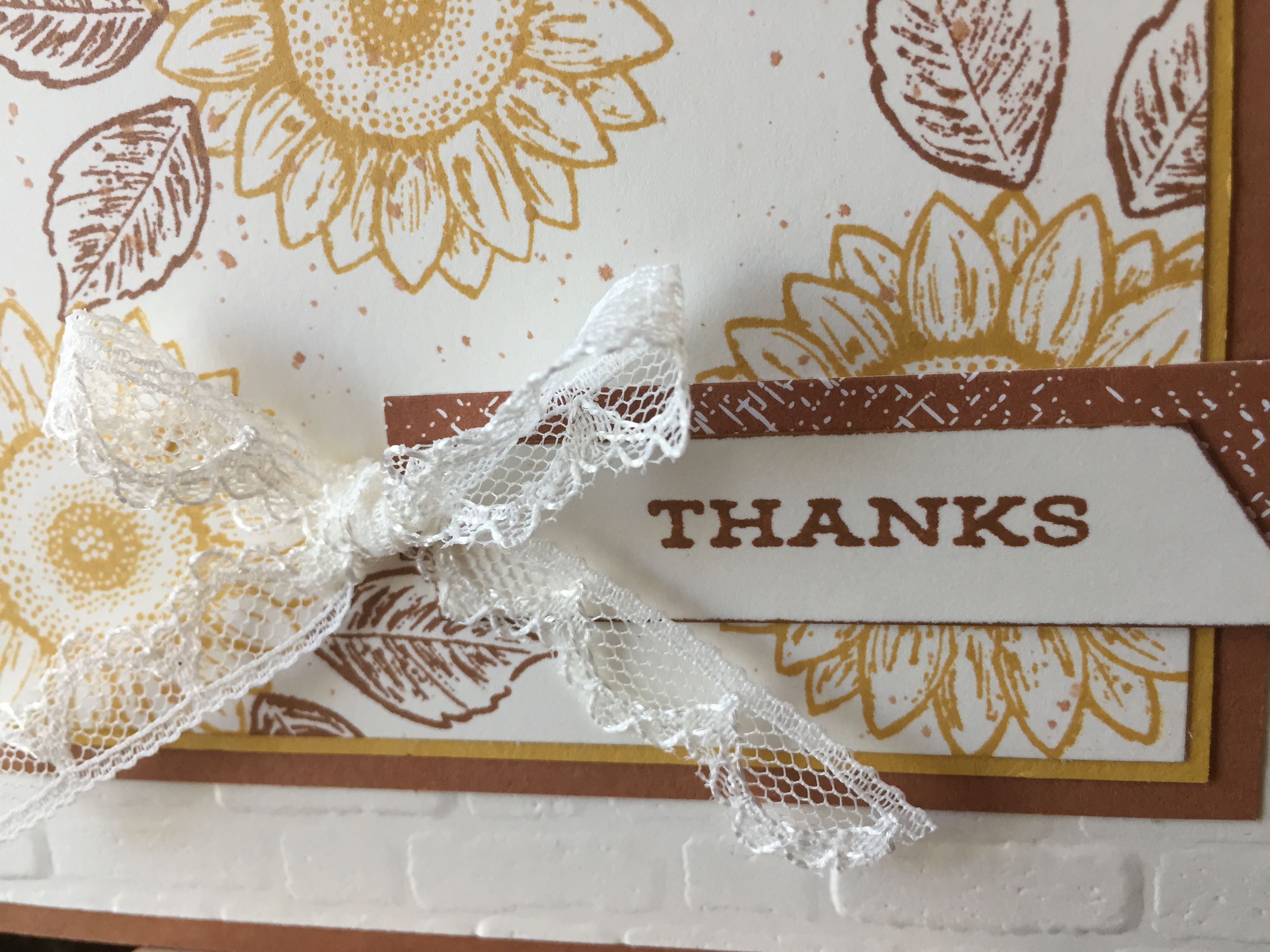 Measurements:
Just Jade Cardstock: 5 1/2 x 8 1/2 scored at 4 1/4 for cardbase
4 1/4 x 3
Very Vanilla Cardstock: 4 x 5 1/4 embossed with Brick embossing folder
3 7/8 x 2 5/8
Bumblebee Cardstock: 4 x 2 3/4
In-Color DSP: 1/2 x 2 3/4

Directions:
Fold the Cinnamon Cider card base in half and adhere the brick embossed Very Vanilla cs onto the top. Stamp the Sunflowers in Bumblebee and the leaves in Cinnamon Cider onto the smaller very vanilla piece. Tap the Cinnamon Cider ink pad onto an acrylic block and use a watercolor pen to pick up some of the ink from the block and flick it onto the piece lightly. Set aside to dry. Using a post it note, block off the part of the sentiment you do not want showing and stamp the thanks in Cinnamon Cider on the small strip of vanilla. Tap the edges into the ink to make an ink border. Cut a diagonal from the corner of the DSP and the corner of the small sentiment and layer them off set together. Adhere all the layers to the center front of the card. Add a bow.
Thank you for stopping in today and checking out my project. If you'd like to check out all the projects and vote for your favorites, follow this link.
Happy Voting,
Jenn