Hi Friends!
This is the last month of Sale-A-Bration!  So let's talk about Paper Pumpkin!
Have you ever heard of Paper Pumpkin?  It's a fun, creative, easy way to get your stamp on monthly.  Every month is a surprise in the mail.  It makes the perfect gift for the crafty friend in your life or keep it all to yourself.  Here is a short video to tell you more about it.
During Sale-A-Bration, if you purchase a 3 month subscription, you will earn one FREE Sale-A-Bration item!
But even better than that, if you purchase a 12 month Paper Pumpkin Subscription you will:
1. Save $2 over the month to month cost
2. Earn 4 FREE sale-a-bration products of choice
3. Earn $20+ Host Dollars to spend on product of your choice
HURRY and Subscribe by March 10th to get our 4th Anniversary birthday kit in March.  AND the upcoming April Kit was designed by our very own CEO Sara Douglas!  The kit will be including a FREE gift inside every April box!  It's always a surprise and we all love surprises right?
Use this link for our 3, 6 and 12 month subscriptions – each include SAB perks if you subscribe by March 31!.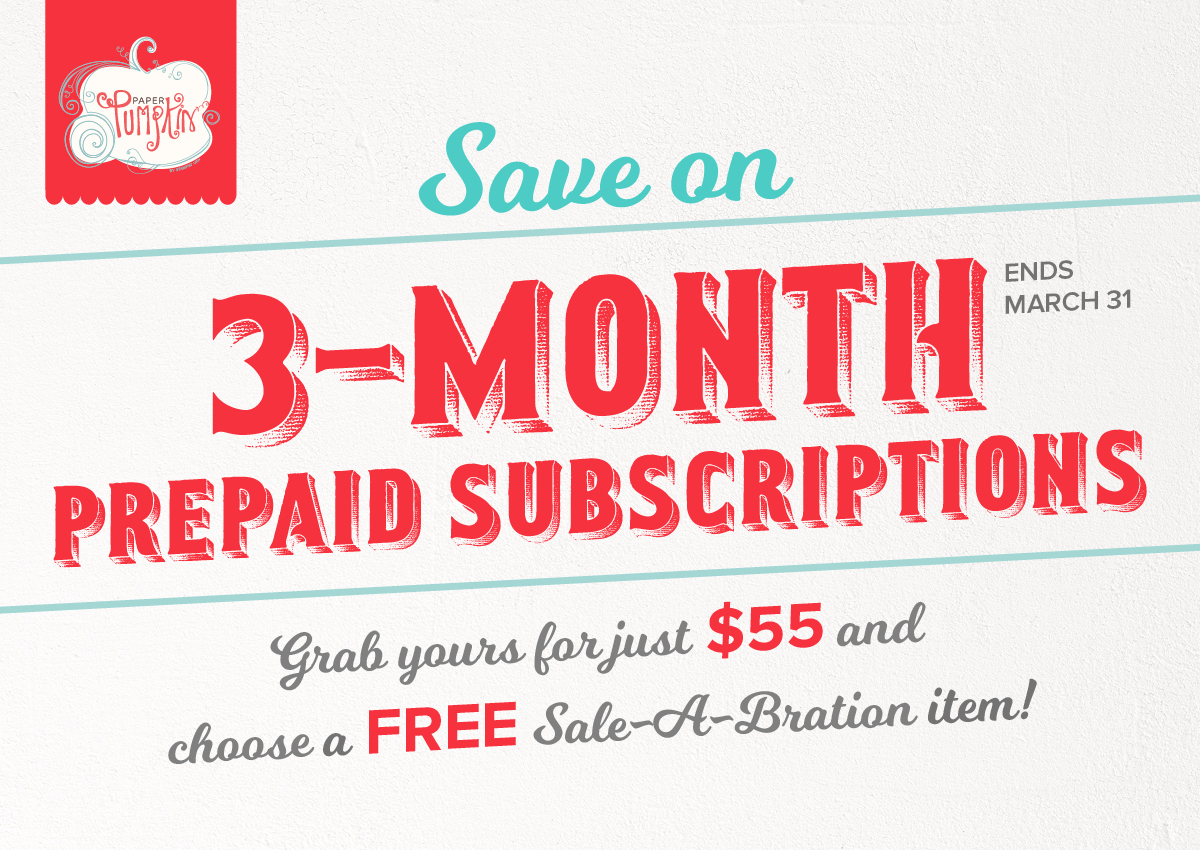 Skip to the fun part of crafting with Paper Pumpkin. Everything is precut and ready to go so that you can jump right in and start having fun.  You won't only like Paper Pumpkin, you'll LOVE it!
I'm having a Paper Pumpkin Party on March 20th from 5 p.m. – 8 p.m.  Stop by at any time during those hours and create a Make-N-Take, snack on some fun treats and check out some of the past kits.  Then sign up in time for the April Kit with the FREE gift and still get Sale-A-Bration items!  It's a WIN WIN!  Go to the Event page on Facebook for more details.
See you then,
Your BFF,
Jenn