I hope everyone had a great Easter.  We sure did.  The kids and I went to church and enjoyed service and then came home to a ham baking, thanks to hubby.  My mom and Grandmother came over along with my brother and his crew.  He's got 3 girls and 1 boy like I do so Alex has at least one boy to play with him. They pulled out the slip and slide and had a blast.  Then they all hunted for Easter eggs and ate candy all night.  By the time they fell asleep, they were exhausted!
I'm working on an Easter scrapbook page and since I haven't scrapped in awhile, it's not coming easily anymore!  So I decided to take a break and do this weeks Monday Mojo card.  I'm using Mint Macaron again in this card.  If you don't already have this color, get it before it's gone!  It's on the retiring list while supplies last.
Here's the Monday Mojo Sketch.  Click on the photo if you'd like to play along yourself on their blog.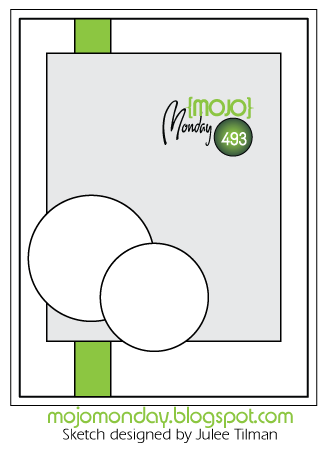 Here's my take on the sketch.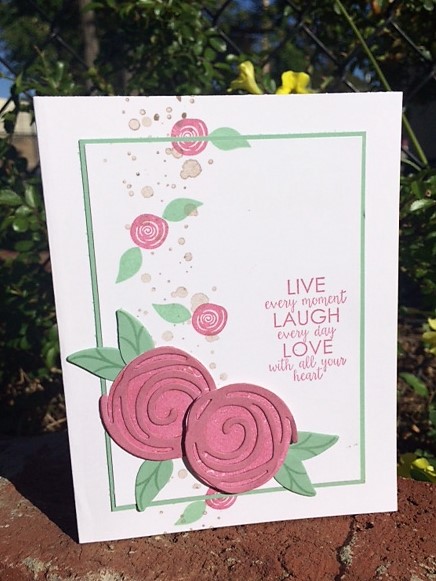 I used the Swirly Bird bundle on my card.  The stamp set and the thinlets are not retiring, however, the bundle of them being sold together is retiring so get it while you still can at 10% off!  I like how this stamp set has the splatter of dots also.  I had never noticed it before because I always use my absolute favorite, Gorgeous Grunge.  It is retiring and I'm so glad I own it.  I can not live without it!  Grab the Gorgeous Grunge stamp set before it's gone.  You will not regret it.  The greeting is a sneak peek from a new stamp set called Ribbon of Courage coming out on June 1st.  It's beautiful and has a few beautiful sayings in it.  I hope you liked my card.
Your BFF,
Jenn