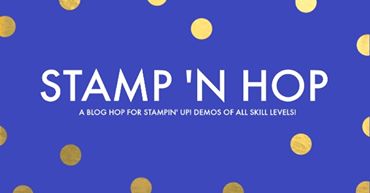 Hi Friends!  Welcome to another round of Stamp 'N Hop blog hop where demonstrators from around the world all get together for one cause: to inspire you!  This month we are having fun with new products from the Holiday Catalog.
I chose to feature the stamp set So Santa which has a Santa that is whimsical and fun doing unconventional santa things like baking, motorscooting and my favorite, surfing!
We had a Holiday Extravaganza to kick off the new catalog and half the attendees received a gift.  The way we decided who would win was by these adorable scratch-offs!  They were so fun and easy to make.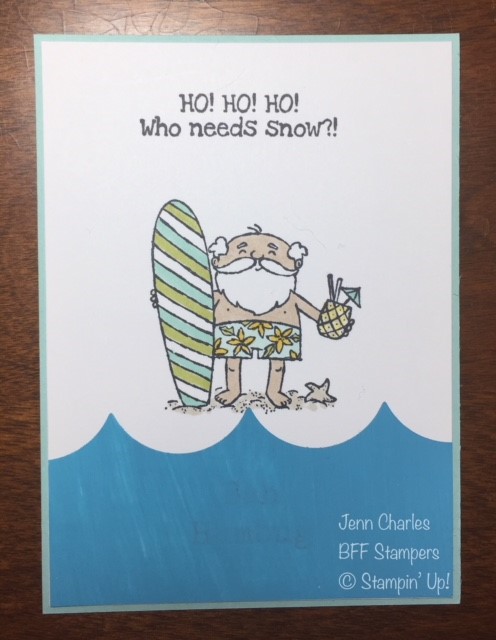 Each person got a scratch-off and when scratched would reveal either Merry Christmas or Bah Humbug!  You can probably guess who the winners were 🙂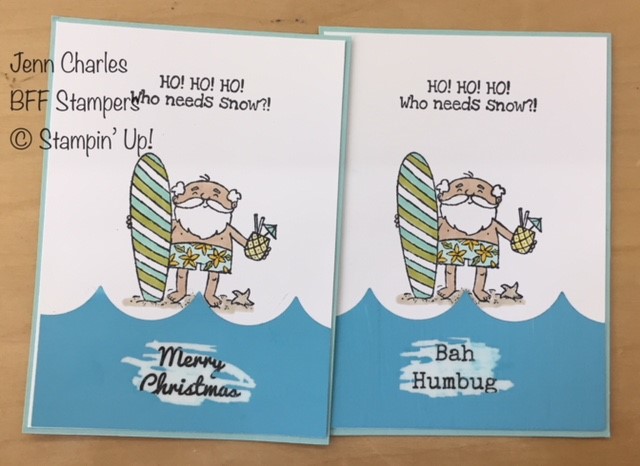 I made these by printing the Merry Christmas or Bah Humbug onto Whisper White cardstock.  You can also stamp a sentiment.  Then I stamped the Santa and the HO! HO! HO! sentiment using Memento Ink.  I colored them with the Stampin' Blends, attached the scratch-off blue water and adhered the whole thing to a piece of Pool Party cardstock.  Here are the directions on how to make the scratch-offs:
You will need:
– Clear Contact Paper (I got mine at the Dollar Store)
– Acrylic Paint
– Liquid Dish Soap
– Paint Brush (I used a foam paint brush)
Lay out the contact paper flat.  I used rocks to keep mine from rolling back up.  Mix 2 parts paint to 1 part dish soap.  Using the paint brush, paint onto the contact paper.  You will need at least 3-5 layers of paint letting it dry about 15 minuted in between coats or it will become very streaky.  The darker the paint, the less layers you will need.  I then let it dry overnight and the next morning I couldn't help but scratch some off to make sure it worked 🙂
Using the Seasonal Layers Framelit Dies to cut the wave shape and then peeled off the back of the contact paper and stuck it onto the cardstock.
I hope you do give this homemade scratch-off a try.  It is such a fun technique and a real wow to the people who receive it.
You are visiting Jenn Charles at BFF Stampers. Please continue to hop along and be inspired by all the demonstrators participating in the hop this month.
Your BFF,
Jenn