Hi BFF's!!! I'm so happy to get back into a schedule after all the hustle and bustle of Christmas and New Year's. I pray that all of you and your families had a safe and happy New Year and that you all got the love you wanted for Christmas 🙂
So Phew! We're back and do we have some exciting news for you! Stampin' Up! 2017 Occasions Catalog and Sale-A-Bration is available to look at and buy from! Squeal! And we hope you will love it as much as we do.  There's beautiful Valentine's Day stuff and surly Manly stuff.  Dragonflies, Hot Air Balloons and Succulents!  Ice cream, Circus and Heros! Such a variety! The blog hop today is showcasing some of the items from the new catalog, so here goes!
My absolute favorite is the balloon pop up dies. I just used them to make invitations for a birthday party!  They were so fun and and easy way to add something spectacular.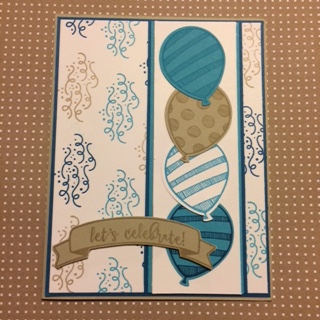 Here is the video straight from Stampin' Up! showing you exactly how to use the dies.
There are so many fabulous stamps, designer series paper and adorable little embellishments, that you will not have a problem finding $50 worth of stuff to buy.  And for every $50 you spend in product, you receive something free from the Sale-A-Bration brochure!  You can not buy the product from the SAB, you've got to earn it!  So come check out the catalog and let me know what's on your wish list!  If you do not have a Stampin' Up! demonstrator, then I'd love to send you a catalog.  Just contact me and let me know!
Here's a few more cards using new items.
This baby card is made with a sentiment from the Stamp Set, All Things Thanks.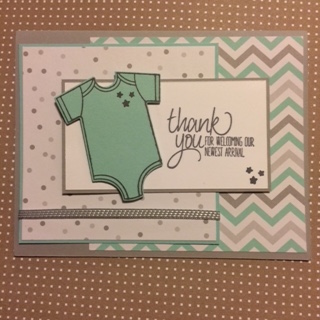 And this card is made from a stamp set called Window Shopping, but the stamp set is not the best part!  The best part is the Window Box Thinlet Die that you can buy to go with it!  I'll add the video below.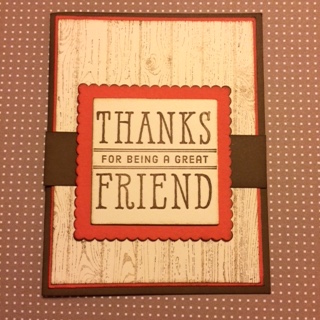 We went to a meeting with our team and got some adorable cards using their pre-orders also.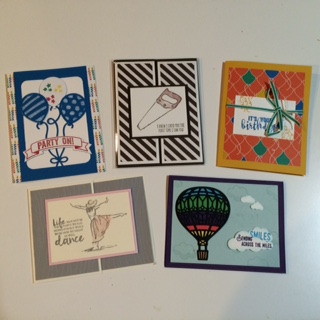 How to earn free stamps:
Shop!!!  Buy online or buy in person:  For every $50 you spend on product out of ANY catalog or online in the clearance, you will receive a FREE Sale-A-Bration item of your choice from the brochure.
Join Stampin' Up!! : Become a Happy Shopper!  It's the best time of year to join Stampin' Up! During Sale-A-Bration, you can become a demonstrator for just $99 USD and choose TWO additional stamp sets for your Starter Kit—any stamp set, any price! (Excludes Sale-A-Bration sets and bundles.) Plus, the kit ships for free!  Once you join, you can shop for 20% off!  And that's what we call Happy Shoppers! 🙂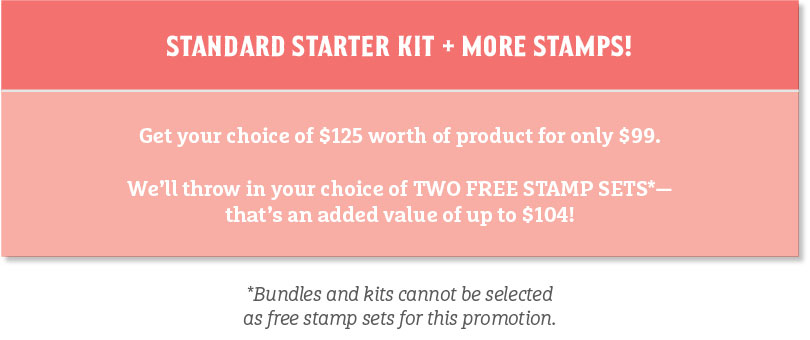 Thank you for joining us on this blog hop!  I hope you enjoyed seeing some of the new product available with Stampin' Up!  For more great ideas with the new Occasions Catalog, check out our Pinterest page where we pin some of our stuff and lots of other people's awesome stuff!
Next up is Marieke with some awesome creations or you can go back by checking out Kristie and her fabulous crafts!  See you next time!
Your BFF's,
Jenn and Lisa