Well now that World Card Making Day is over, BFF Stampers is joining the Global Stamping Friends Blog Hop!  Today's Hop is a Color Challenge featuring 5 beautiful Stampin' Up! colors.
Aren't these a wonderful mix of colors?  We could also use Very Vanilla, Whisper White and Basic Black as our neutrals.
A color challenge is great for Lisa because she has a difficult time mixing colors.  She chose to create a traditional scrapbook page layout for today's Global Stamping Friends Blog Hop.  Using all of the colors, except Cajun Craze, she created a beautiful "Love" page.  She utilized the Stampin' Up! card stock to show case the colors Cucumber Crush, Delightful Dijon, Real Red and Early Espresso.  By adding a little splash of ink in the background with the  Gorgeous Grunge stamp set, it added just a bit of texture.
At least 3 of these colors reminded me of fall so I went ahead and made up some Thanksgiving themed items for our dinner table.  The first item was made using the Clear Tiny Treat Boxes.  They are so tiny and so cute!  I thought they would make a great place card/favor box for a Thanksgiving dinner.  I put trail mix in it but you could put candy corn or reese's pieces or anything really.  The band just slides off the box so you can get into your goodies and then close it back up again.
I decorated it using the Vintage Leaves Stamp Set and Leaflets Framelits Dies.  I left the Delightful Dijon leaf without a stamped image so I could write my name for the place card.  The tiny open leaf is from the Flourishing Thinlits.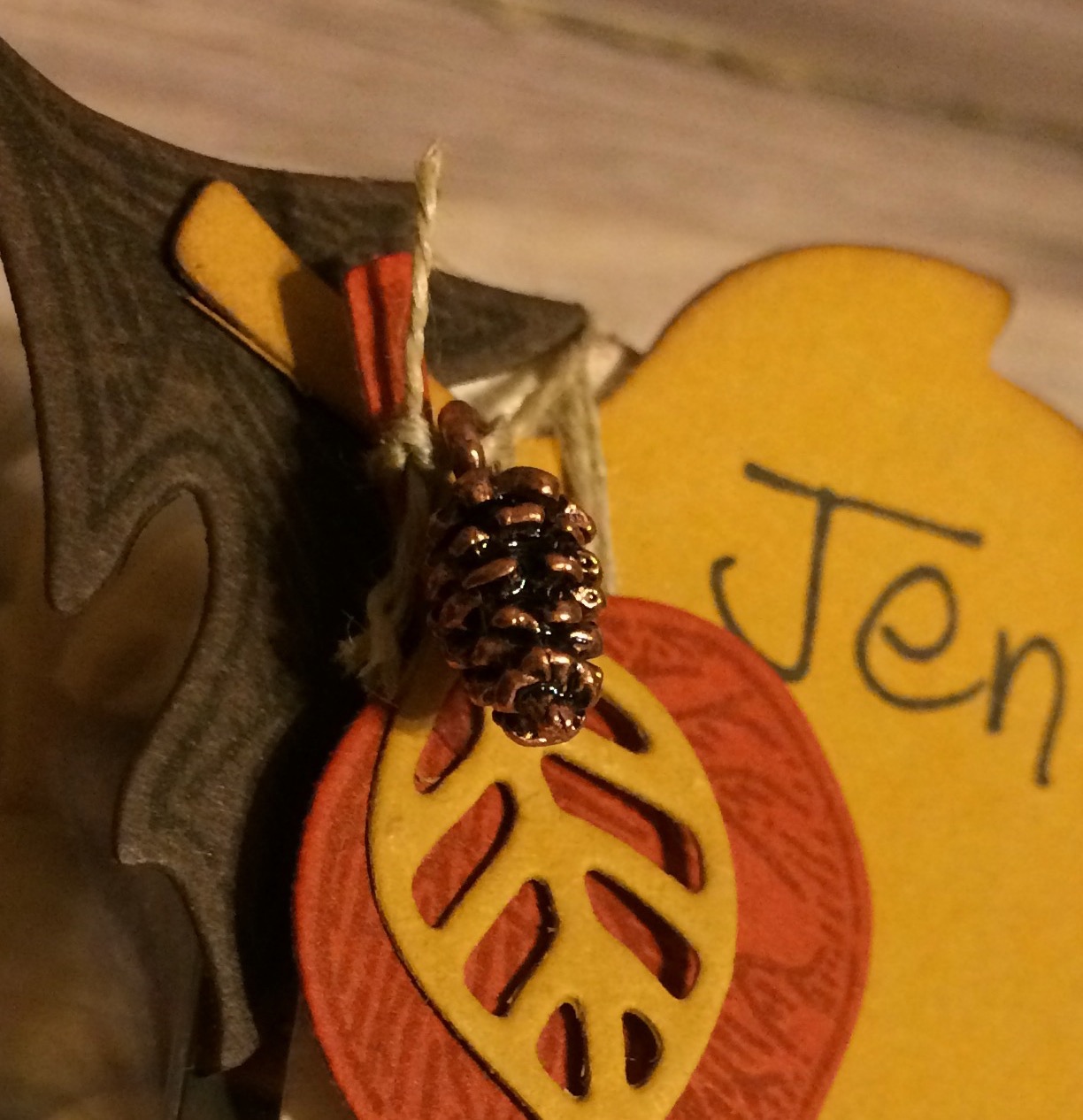 I love the little copper pinecone.  Just a great addition to the leaves.
Then I made a utensil holder using the Mini Treat Bag thinlit die.  I wrapped it with a piece of embossed Very Vanilla Cardstock.  I embossed it with the Woodland embossing folder and then sponged it with Early Espresso to really pop out those tree trunks.  The greeting is from a stamp set for the Holiday Catalog called Paisleys & Posies.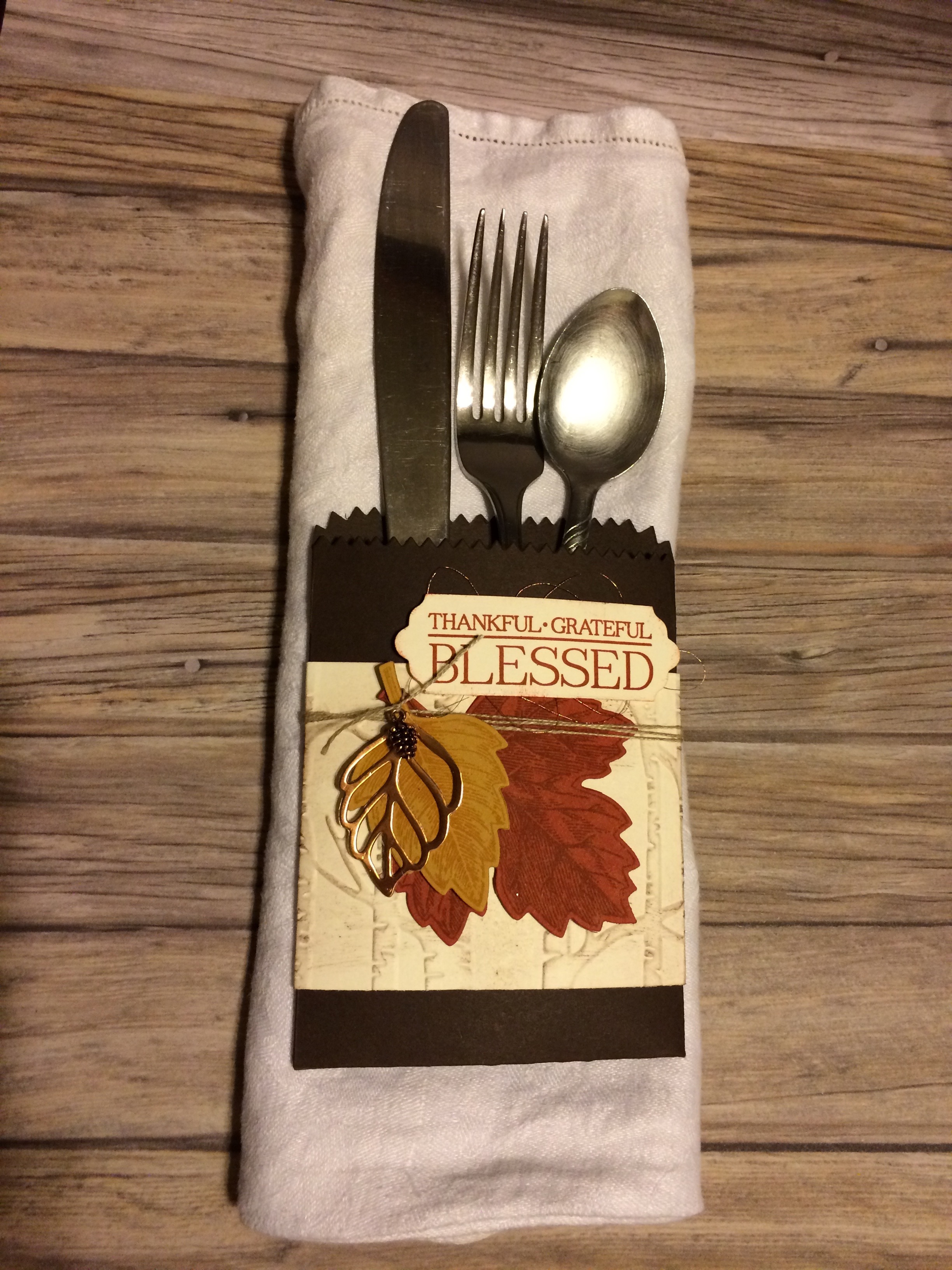 I did not have a punch or die that fit my greeting and fit nicely onto my utensil holder so I used a trick I learned to use your labels and get them to fit.  If you trim your paper to fit into the die exactly, you can put one side under and cut only that one side.  Then take out the paper and do the opposite side.  It's a little confusing but hopefully the pictures will help.  I love this technique and use it often now.
I looped some copper wire behind the sentiment.  Here's a picture of how we do it.  I'm glad I learned it this way because before, it was just a tangled mess and I didn't like the look.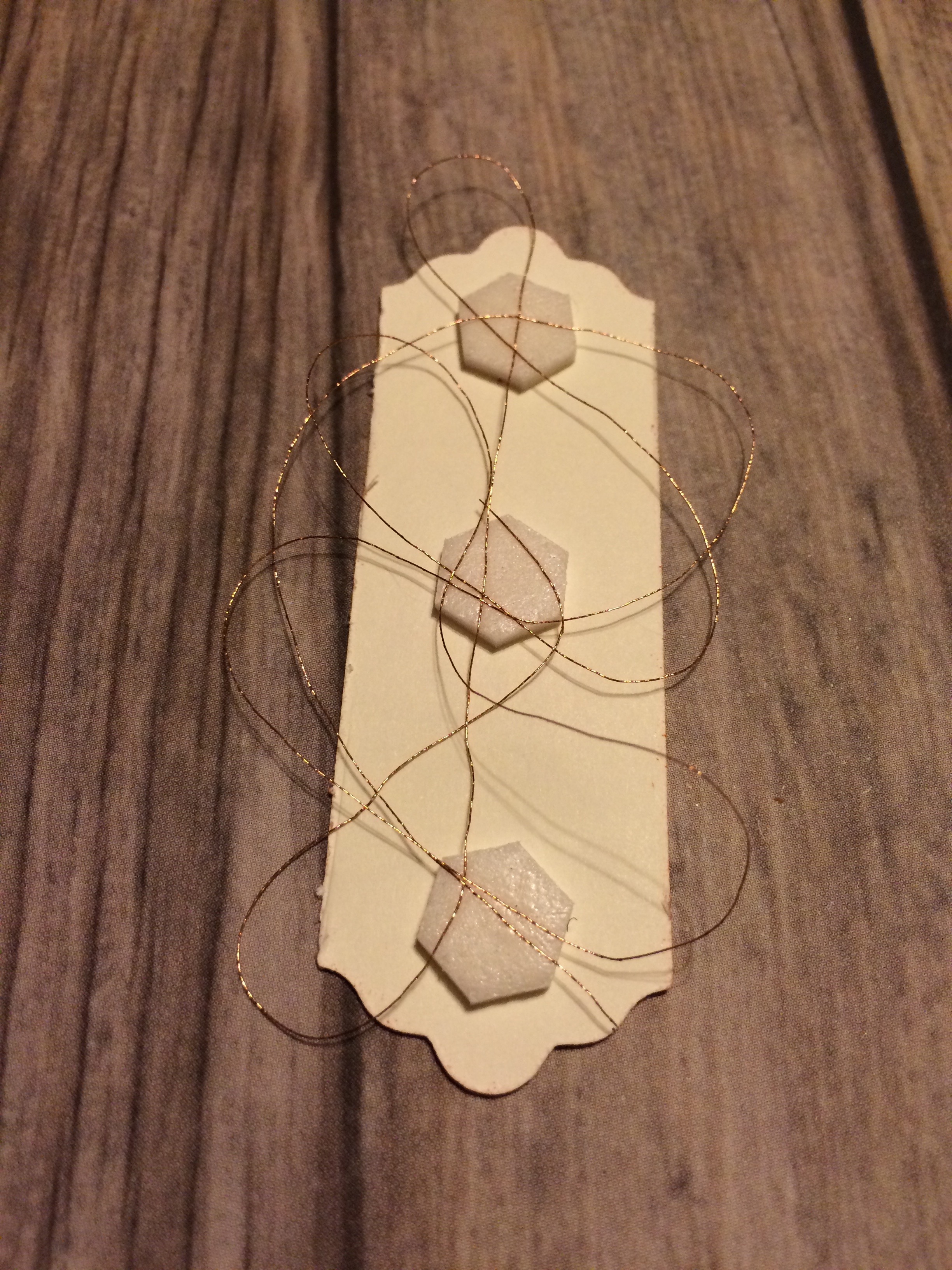 I hope you enjoyed this project and can get some use out of it.  Those clear tiny treat boxes really are uber adorable!  They are in the annual catalog.  What a nice matching set for the dinner table.  We always eat at my sister in law's house so maybe I'll surprise her this year 🙂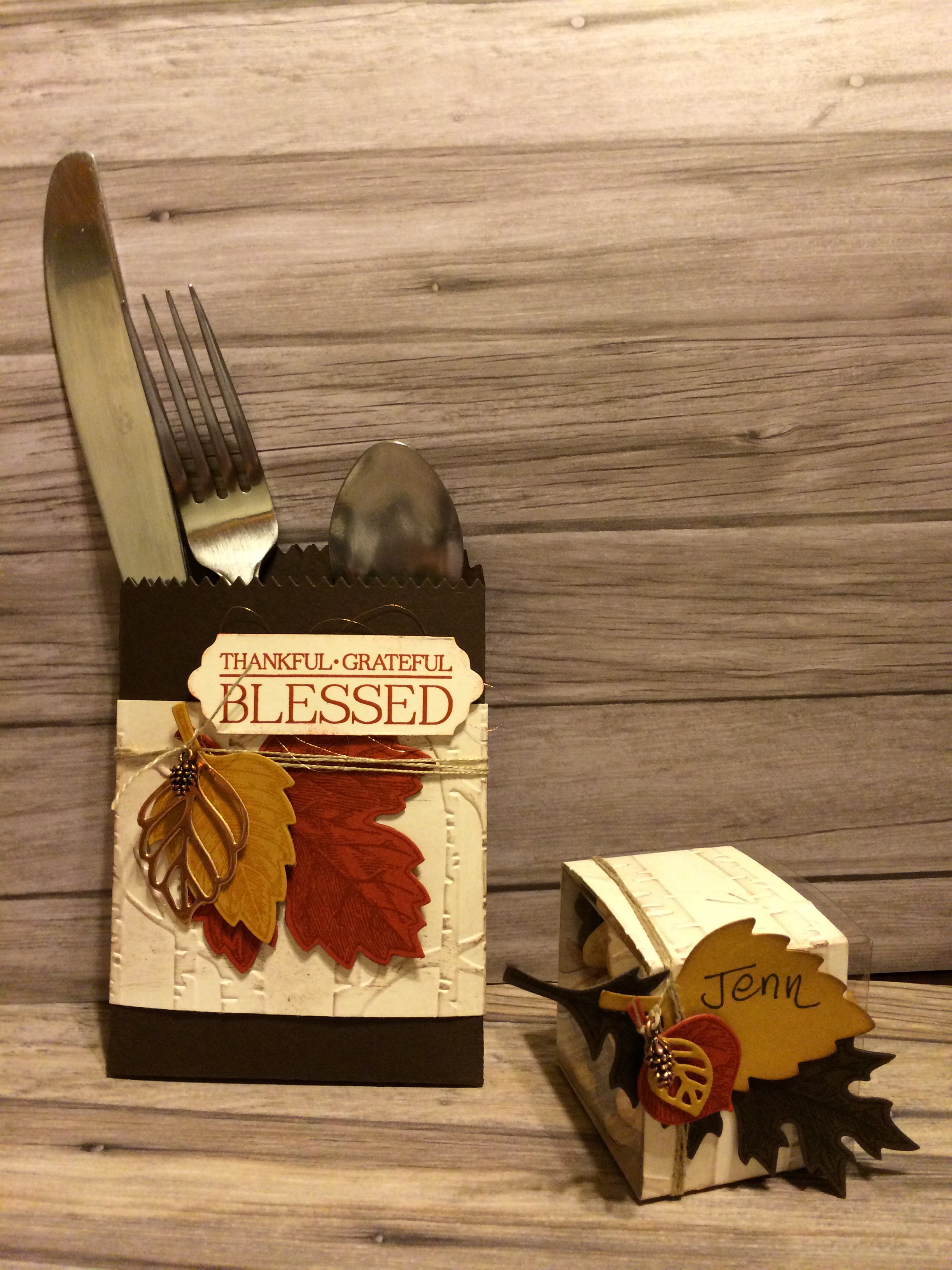 Happy Stamping,
Jenn
Thank you for stopping by.  You can click the Previous Button and go back to Miriam's Blog or Hit the Next button and go over to see what Kimberley Anne Morris has created!
Here is a complete list of all our Global Stamping Friends!
1. Miriam Biegun Permut
2. Jenn Charles
3. Kimberley Anne Morris
4 Christine Wrede
5. Marieke Bart
6. Cary Buckham
7. Anja Reuss
8. Kristie Neal Walthall
9. Angélique Stempelkeuken
10. Carole Anne Currie Patterson
11. Sarah McDermott